This page contains information regarding the 5puzzle game, one of my early game creations.
Used extensively in my school workshops in the UK, both games are also played in homes, schools and universities all over the world and are suitable for children as well as being challenging for teachers and parents to play too!
The 5puzzle game was derived in 2011 as it became pretty clear from my workshops that, due to the popularity and difficulty level of the 7puzzle game (details can be found by clicking the previous link), I needed to design an easier, junior version to cater for the needs of younger children aged 5 years and above.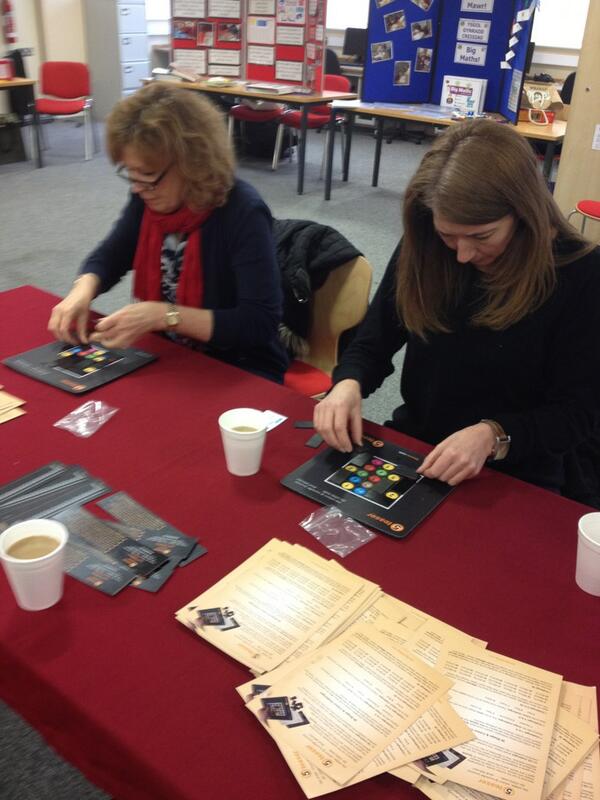 The 5puzzle game is 'the colour & number puzzle for little ones . . . and adults!' and an ideal way of introducing young children to the world of puzzles and problem-solving.
It involves a mixture of easy-to-play colour challenges as well as some number challenges which use basic addition skills and the digits 1-5.
When designing the 5puzzle game, (initially named 5teaser), I used the same concept as when producing my 7puzzle game, but utilised smaller pieces and created easier tasks.  It has been just as positively received and, as you can see from this recent picture at a teachers' event, they can also become very addicted to the game.
When working through the fun challenges, players must place all 10 rectangular pieces onto the playing board, thus leaving five gaps.  In the initial challenges, and to ease the new player into the game, these five gaps must contain five of a certain colour, but the vast majority of challenges require the five gaps to consist of either five different colours, or five numbers that add up to a given total.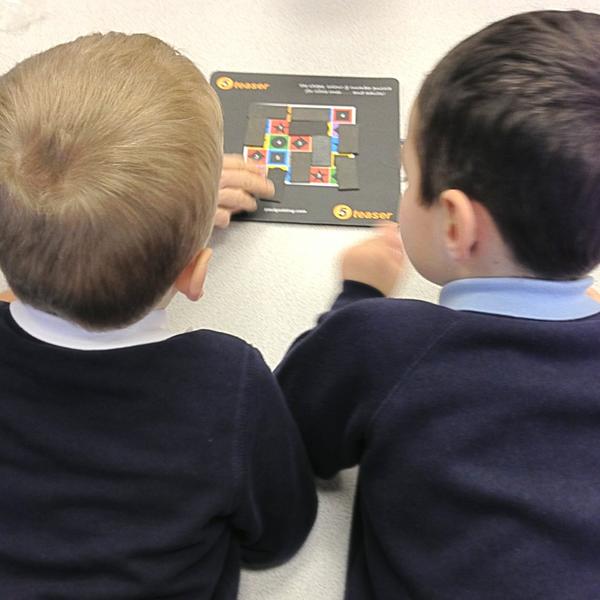 The game involves colour and number challenges in the ratio 50:50 and should be attempted in the order shown on the enclosed 'Instructions' sheet.
As with 7puzzle, the 5puzzle game comes housed in an eco-friendly black bag, so whether you wish to purchase a single copy for home, or a classroom set for school, the game(s) will come packaged in the one bag, together with rules and instructions regarding the 50 challenges.
.
Purchasing Options
Please get in touch if you wish to invest in a copy of the 5puzzle game which retails at £21 per copy, plus £5 P&P.
The easiest way to make a purchase is to email us by clicking paul@7puzzle.com and let us know.
We hope you enjoy the 5puzzle game.